Rolling Thumbs
is a professional thumbnail manager with the first ever released
video cropper
! Everything what you could dream of and what you didn't guess at all, we have realized in our product. You can launch successful sites with help of Rolling Thumbs, making minimal effort.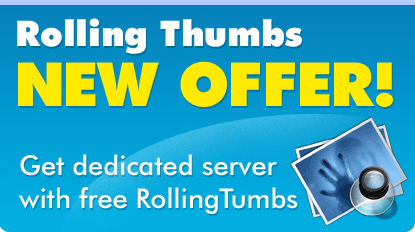 Unequalled manual cropper
High-grade TGP-module
Ideal compability with all trade-scripts
More then 600k FHGs with your ID
Multi-threaded galleries grabber
Templates, archives

Video galleries cropping
5 algorithms of rotation
Multi-site support
Detailed statistics
Ultra-fast C++ engine
User-friendly interface
Just imagine, more then 3 years of hard work and three versions of the product are already released, but now we would like to show the product to a wide audience! Rolling Thumbs maintains unlimited quantity of traffic, since it works with well-known trade scripts, and doesn't pass clicks through itself. 
Thousands of TGPs are launched in the world. They are all of the same type and identical content. How to be different from others? Video cropping allows you to choose new frames and perspective, making thumbs absolutely unique and different from thumbs of other sites. This step will allow you to increase productivity of your sites severely! Look at the clip, on the right-hand side of the screen, the work with video-cropper is shown there. 

Could you imagine this? Make sure of it - just download fully-functional version of Rolling Thumbs. All necessary things will be installed and adjusted by handy auto-installer itself!